Check out BK's magic bean stalk.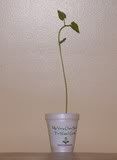 Nine days ago this was a bean that BK planted at the Farmer's Market. Every time I pass by and glance at the plant, I cannot believe how much it has grown...it's almost creepy.
I wonder how much bigger the thing can get.
BK wonders how we can climb up once it gets big enough.
Simple joys of childhood...this time in the form of a bean in a cup of dirt...mixed well with a healthy dose of imagination...both hers and mine.