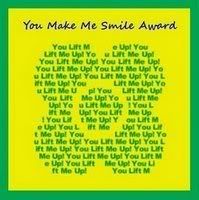 My friend Elysa bestowed my very first blog award this week, the YOU MAKE ME SMILE AWARD. The creator of the award says:
"The thing that I love most about blogging is that I learn so much about a person just by reading their blog. I have met MANY wonderful people with wonderful stories to tell, and I am grateful every day for each person that I have the pleasure of crossing paths in life with. I wanted to create something special for the top ten people who have inspired me through their blogging; the stories they tell, and the lives that they lead with grace and dignity. I visit their blogs for inspiration and encouragement. Although there are MANY people I want to give this award to at this very moment, I am going to choose ten bloggers. Please grab your badge and wear it (with a smile) proudly, and pass it on because you inspire and encourage me, thank you. So, now it is my turn to pass it on."

I just have a few blogs in my Favorites folder, as I am kind of new to all of this. I check in on them every couple of days to see what's new...although there are a few that I find myself gravitating to more regularly than others. After Elysa gave me this award, I found myself thinking about which blogs make me smile...and I realized that my favorites not only make me smile...but they also make me cry...and feel encouraged...and be inspired...in short, the writers enrich my life greatly...each by sharing a little piece of their life with me. I want to share my list of folks to whom I am passing on the YOU MAKE ME SMILE AWARD:

Leslie at
http://www.homeschoolblogger.com/LeslieNelsen/

Leslie is the mother of six wonderful children. The youngest one has Down's Syndrome and she is such a beautiful baby girl. Leslie shares her heart in her blog, telling of her incredible journey of faith as she faces trials and heartaches along the way...never failing to give God praise, even when her heart is threatening to break. I do not know Leslie, and probably never will, but she has touched my life in ways that she will never know.

Elysa at
http://elysasmusingsfromgraceland.blogspot.com/

I don't know what protocol is for giving back the same award that has been given to me, but I cannot leave her off my list. Elysa homeschools her seven super-sweet and smart children and always has something great to share from their adventures. She also loves Jesus and has a passion to share His love with others. I know Elysa IRL (in real life) and she is as genuine and funny and loving as she is on her blog. I am so very thankful for her friendship...and for her blog that helps me feel connected to her even when we don't see each other regularly.

Suzanne at
http://dearreader.typepad.com/dear/2007/10/dear-reader-c-2.html

Suzanne captures the events in life in a hilarious way that is so specially unique to her. She encourages me to read...and to just enjoy life. I hardly ever leave her blog without a smile on my face.

Barbie Bassett at
http://www.barbiebassett.blogspot.com/

My family has watched Barbie on WLBT for years...inviting her into our home via the evening news. I have just recently discovered her blog and I'm hooked. Barbie is funny and wise. She loves God and always has a good word to share.

Heather at
http://madamerubies.com/blog/?page_id=212

Heather lives locally, but I have not met her…yet. I have been reading her blog for a couple of months now and her insights on life have challenged and inspired me…often challenging my assumptions and causing me to think outside of the box.

So there is my list of my award winners. I hope you will take a minute to check out their blogs and see if you agree with me about how special these women are.